The Historic Winfield Young Ranch
Treasure State Quarter Horses is located thirty miles south of Chinook, Montana in the Bear Paw Mountains. The terrain is very rugged and steep with the highest point at nearly 6000 feet above sea level. We are currently into the fifth generation living and working on this ranch.
The ranch was established in the late 1800's by Winfield Young.  It was, and still remains, a working cattle operation. Throughout the years the ranch had maintained a band of broodmares to supply the ranch's real need for good, sturdy cow horses. Some of these ranch horses' bloodlines went back over 80 years to mares Bill Young, the third generation rancher, bred and raised.  Because the horses were raised on the ranch we have been able to distinguish thru selective breeding which traits we wanted to be passed on in our herd. As time went on we refined our stallions and mares to produce the best qualities in our prospects with an emphasis on genetics, conformation, trainability, speed, and performance.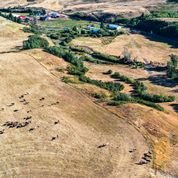 Treasure State Quarter Horses is a traditional outfit with modern-day breeding. We halter break all of our own colts and ride and train our own prospects. The mares foal out in the hills and the colts learn to cover the country just as soon as they can stand.
Our colts are the product of a breeding program we began developing in the early 1990's which emphasizes versatility and disposition. While it seems that everyone today is advertising "versatile horses," we took a different approach to build our program by concentrating first on our broodmares.
We started with the ranch's base of proven, cow horse broodmares, then complemented this herd with what we feel are the best young fillies and mares out of proven performance bloodlines of top Quarter Horse breeders today. This has taken many years but we feel the overall quality of our broodmare band has made this time-consuming effort more than worthwhile. True to our breeding program, our horses are a blend of proven speed and cowhorse pedigrees.
Our current stallions are a combination of top performance and speed bred genetics without sacrificing conformation or disposition. All our stallions are proven producers, performers, and come from families that compete at the highest level.
We purchased the best young colts we could find from top breeders and brought them up on the ranch under our careful watch and guidance.  In addition to general ranch use, they have been shown and proven in competition in Barrel Racing and Cutting. While it takes longer to prove out these young stallions, in the end, we know exactly the quality we have to offer and have been well rewarded for our patience.

Treasure State Quarter Horses is an AQHA Ranching Heritage Breeder

We have partnered with Equis Feed, to provide the best feed we can to our herd.

Visit their site to learn more today!